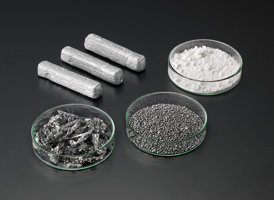 Atomic : 52
Mass Num : 127.60
specific gravity : 6.24
a melting point : 449.8℃
Application
Tellurium is used for additive for free cutting steel, iron casting and catalysts, and its demand is expanding to Cd/Te solar cells, peltier device and so forth.
We supply the Tellurium in various forms, grades and shapes in response to customer's demand.
PRODUCT
FORMULA
GRADE
APPLICATION
FORM
Tellurium
Te
4N,5N
Solar cell, Optical memory material,
Compound semiconductor
Ingot , Granule , Dendrite
Tellurium Oxide
Application
Our TeO2 is supplied mainly for vulcanizing accelerator of rubber for high temperature resistance use. Recently, it has started to be used in the acoustic optics, optic lens and so forth. Our research and development power has made it possible to produce Tellurite and Para-tellurite types in a different recipe.
| PRODUCT | FORMULA | GRADE | APPLICATION | FORM |
| --- | --- | --- | --- | --- |
| Tellurium Oxide | TeO2 | 2N | Catalyst, Electronic Material | White powder |